Yesterday morning, before it was announced that I had been chosen for the Top 12 Picks from Spirited Woman for Woman Visionaries, and then the Top 12 Picks for my book, Beyond the Bookclub: We are the Books we must Read, I picked a rune…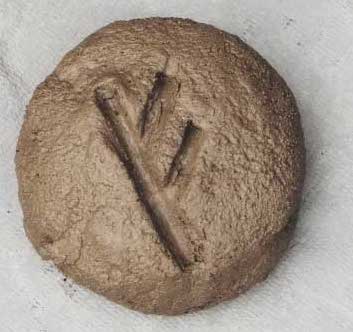 A rune is an ancient divination tool from Scandinavia. The stone I chose, Fehu, speaks to finding balance and perspective when apparent good comes and that it can vanish in an instant. As an actor I rode this rollercoaster daily. Even in my private practice the ebbs and flow of abundance and scarcity challenge my sense of worth.
When I was a child, I was not athletic (okay, I was a klutz). When it was time to be chosen for a team in gym class, I was usually among the last picked. But I was funny and so they liked having me on their team, just not to execute any athleticism. Luckily there were other gifts I had to offset the havoc that could be played on my self-esteem. Over the years I have won quite a few awards and at least been a nominee for others. I always experience an ambivalence around this. What does it mean, anyway?
I know that I never really enjoy watching awards shows like the Academy Awards because one person is singled out, and really it's all subjective, even political. Yet we live in a world where notoriety can help pay the bills. Who is to say or pass judgment on who is the BEST?
I flash back to a memory of the night I received the Robinson award for acting my junior year in high school. It was for a summer program at Northwestern University I had attended, and it led to my receiving a full scholarship there. It was a breakthrough moment for me, I suppose, but it also created pain and suffering for the UNCHOSEN. A teacher had told one girl in particular that she had no talent at all and should choose something else to do. I cringed, because he had just told me I was one of the most talented students he had ever taught. At the award ceremony she barged up to stage, sobbing, grabbed the microphone and screamed "You have no right to judge, you have no right to know my future or tell me what I can or can't do."
This moment had a profound impact on me, not because I won the award, but because of what she said. And I vowed NEVER to be the teacher who said what that man said, who stood in judgment like that. I fervently hope she went on to prove him wrong.
So, on one hand I feel honored to be chosen, noticed, valued and included with these wonderful women and amazing books.  On the other hand, I know a good part of it is luck and timing.  I also know that when we are Chosen it is a wonderful thing.  But when we are NOT CHOSEN, it is also a wonderful thing.  Both experiences give us a choice to evaluate ourselves honestly and with love and compassion.
The word 'humility' does not mean to self-deprecate. It means to accurately assess your value and your contributions, to see with balanced eyes, and a neutral egoic stance.
And now, without further ado – enjoy these book picks and admire with me the women on the Top 12 Lists!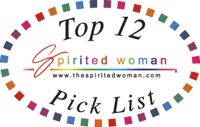 SUMMER is a time of movement, adventures and growth. Our Top 12 Pick List is filled with women visionaries who will help to inspire you. We urge you to support these spirited women. Save this list! A great resource tool for you all year round.
NINA SIMONS – co-founder of Bioneers, ignites and inspires leadership in every woman through workshops, books, media and conferences that encourage and redefine how we're each called to lead and serve social transformation at this pivotal moment. Explore the nexus of women, social and racial justice, indigeneity, nature, spirituality and the archetypal feminine. Visit her or Bioneers' website for renewal! Ninasimons.com.
MONICA KENTON IS A SHAMAN, DREAM TEACHER AND SPIRITUAL GUIDE – who helps purpose driven high achievers boldly and soulfully craft the life and business they REALLY want. From mindset to journeys to your radiant double – fall in love with life again, develop rock solid confidence and trust your heart's guidance during this time of soulful re-invention. www.Monicakenton.com.
KIM BOUDREAU SMITH IS AN ADVOCATE FOR WOMEN'S VOICES – a speaking/visibility coach, speaker, & #1 International best-selling author. Kim teaches women to step further into their bold voices, to strengthen their confidence, be heard and seen all on their terms. No more holding back and no more leaving opportunities on the table. www.kimbsmith.com.
INTENTIONAL LEADERS, BUSINESS COACHING & LEADERSHIP WITH HORSES – Founder Janice Dresher works with horses to help business owners, executives and work teams achieve profitable results in an environment of wellbeing. We build missing pieces to establish the consistency and quality companies wish to be known for. Our leadership and team building retreats with horses inspire healthy work relationships. www.intentionalleaders.com.
RUTHIE LANDIS – is a best-selling author, body-centered psychotherapist and life coach, hypnotherapist, Enneagram teacher, Award winning international workshop facilitator, Reiki master, artist, writer, actress, director, acting and public speaking coach. She also uses Nature, Ceremony, the Chinese Five Elements and interior design to aid people in life transitions, reclaiming Wholeness. She co-creates unique encounters of waking up, self-empowerment, and healing. www.ruthienergy.com.
JULIE WOLK – BUSINESS COACH, COMMUNITY FACILITATOR & NATURE FREAK helps coaches, consultants and healers slow down and grow rooted, blossoming, burnout-free businesses modeled after the way nature works. She's a firm believer that if we step off the productivity hamster wheel and tune into nature's rhythms, we can grow more sustainable lives, businesses and even a better world. Juliewolkcoaching.com .
STACY BROOKMAN IS A RESILIENCE AND LIFE STORYTELLING EXPERT – and produces the Emotional Abuse Recovery and Resilience Summit. She helps smart, outwardly-confident women who secretly have low self-esteem issues due to an emotionally abusive partner take back control and develop the resilience they need to be themselves again. She helps them write their tough life stories in her course Lifestory Laboratory. www.stacybrookman.com.
JENNIFER SUNDEEN – is a spiritual teacher, writer, activist, community architect, nature lover, and mother. She has founded several organizations that support girls, women, spirituality and the earth including The Durga Studio, Durga's Red Tent, The Lalla Project, and The Harvard Farmer's Market. In 2010 she launched Goddess Pilgrimages, a global travel company for women dedicated to honoring the Divine Feminine. www.jennifersundeen.com.
ROSE HARROW, CERTIFIED MASTER BUSINESS COACH – mentors leaders, holistic practitioners, and other change-makers to make a better living while they make a better world. Creator of the "Authentic Marketing from the Heart" Program ™ Rose brings transformational sparkle to business development in group programs and private coaching. A passionate speaker, Rose inspires, while teaching grounded systems for real world results. www.RoseHarrow.com.
JILL JARDINE, M.A. COUNSELING/PSYCHOLOGY, LIFE-LONG ASTROLOGER & PSYCHIC – has studied metaphysics and read astrological charts and tarot cards for 40 years. She has provided Western astrology, Intuitive, and Vedic readings with an accuracy and adeptness that continues to amaze her clients. Jill is certified in several healing modalities, and is a Sanskrit Mantra instructor, and Kundalini Yoga teacher. https://jilljardine.com.
DEANNE GAUYA, HOLISTIC FITNESS COACH, STRESS REDUCTION EXPERT – and Amazon Best-selling Author & Speaker. For 30+ years, she has remained on the 'cutting edge' of mind/body medicine and holistic fitness; successfully re-inventing her business several times. DeAnne has helped 1,000s of clients across the country from Hollywood stars to The White House. www.gauyafit.com.
KAREN PERRY – is living proof that you absolutely can design your dream life from the inside out to create stress-free productivity, profitability and plenty of play! Karen loves igniting the inspired spark of possibility in others. As creator of Peace~Fully, Power~Fully, Play~Fully YOU Coaching, Karen holds A Space For Grace™ so that you love and live with ease and grace! www.karenperry.me. www.aspaceforgrace.life.
Every woman on this pick list has made a difference for women. If you would like to be featured or recommend another Spirited Woman for our next list, call Nancy @ 805-698-3555 or nancymills@thespiritedwoman.com. Our Top 12 Pick List logo is a symbol of recognition for inspiring and supporting other women.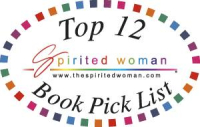 SUMMER is swinging in a hammock and enjoying a good read and a glass of wine. On our Summer Top 12 Book Pick list, we've featured an array of authors who will inspire and transport you to a new place. We urge you to support these spirited talents! Save this list year round! A great resource for you.

DRAWING LESSONS – A poignant portrait of a woman who must learn to create a new life for herself. Sixty-two-year-old Arianna arrives in the South of France for a two-week artists' workshop, full of anticipation but burdened by guilt, after living with the devastating diagnosis of her husband's dementia. She searches her heart for permission to embrace the life in front of her.
www.patriciasandsauthor.com. Amazon.
SO MANY ANGELS -Shattered after her husband delivered the news: He had just been arrested for attempted solicitation of a minor male over the internet. Then diagnosed with multiple sclerosis – Diane's story is one of resilience and strength – and a tribute to the many friends and strangers who helped her and her two boys survive – the greatest trial of their lives. www.indiebound.org. Amazon.
BEYOND THE BOOKCLUB – We long for intimacy to balance a digital and impersonal world; face-to-face contact when screen-to-screen is the norm in these times. Open this book and find short, meaningful, catalyzing stories, and illuminating activities, to gather your tribe and share in building community with intention, compassion, awareness, and spiritual grace, while developing a deeper, kinder relationship with yourself. Ruthienergy.com. Amazon.
EXPERTS & INFLUENCERS: THE LEADERSHIP EDITION – Compiled by Rebecca Hall Gruyter, Publisher and #1 International Best-Selling Author. We are excited to bring this powerful book featuring over 18 leaders that are committed to helping you SHINE powerfully in leadership! Each leadership expert shares: insights, tips, tools, and wisdom in the area of leadership to support you powerfully on your journey. www.YourPurposeDrivenPractice.com. Amazon.
ANGEL RELATIONSHIPS, A MATCH MADE IN HEAVEN – Angels want to prove their existence and are reaching out to connect with us now more than ever! Using exercises, meditations and visualizations shared by author and visionary award winner Annette Bruchu, readers of all ages will learn how to connect with angels, recognize angel signs and receive divine guidance for navigating through their daily lives. AngelForHigher.net. Amazon.
MISTAKES INTO MONEY – Written by Lisa Thomas – Achieve exponential success by transforming your mistakes into money! Like an alchemist that turns lead into gold, learn the secrets that have worked for myself and hundreds of women I've coached to greater financial success. Your past choices, even repeated mistakes, will be your greatest asset in up leveling your money success. www.Mistakesintomoney.com.
GODDESS ON THE GO – Author Leora Edut walks you through her life's journey -to-date, from gangster to goddess! She's come full circle after almost going to prison – twice – and chasing "the good life." Through ritual and story, she helps you bring the Divine Feminine into all areas of your life and feel safe, sexy and powerful. Goddess-onthego.com. Amazon.
THE CONFIDENT PATIENT – What does it mean to be a confident patient? Confident patients and their loved ones know who to connect with, what to ask, and how to move forward with knowledge. Like a trusted friend, this book in a supportive and compassionate way, helps you understand and plan for your health care needs – with confidence. http://2x2health.com. Amazon.
THE SILVER SHOES – Author Jill G. Hall brings readers a compelling tale of two dynamic women. Ultimately, San Francisco artist Anne McFarland and sheltered 1929 New York debutante Clair Deveraux – two very different women living in very different eras – attain true fulfillment . . . with some help from their silver shoes. www.jillghall.com. Amazon.
SOUND BUSINESS BITES – The problem with common sense is that it's not so common, and hard to find in the business world. Margery Miller shares her insightful thoughts about everyday business practices that emphasize the human element. Being creative, trusting, empowering, and truthful in business is challenging; she shows you how to apply these critical foundations and run a more successful business. Greatgirlsnetwork.org. Amazon.
ORGASMIC LEADERSHIP – Written by Rachel Braun Scherl, a champion and leading voice for women's sexual and reproductive health, Rachel tells the story of what drives, inspires and sustains entrepreneurs in the rapidly growing global women's sexual health and wellness space. She shares the trials, tribulations and triumphs in building female health businesses, with insight, a unique voice, experience and humor. www.sparksolutionsforgrowth.com. Amazon.
MINDFUL LOVING: A GUIDE TO LOVING WITH PASSION AND PURPOSE – written by co-authors, Kathleen Todd, MSW and Diana Baysinger, MC. This book empowers individuals to sustain connection in their love relationship. More than just a concept, Mindful Loving is a practice that translates loving into one of life's greatest sources of joy, fulfillment and connection. www.mindfullovingbook.com. Amazon.