Authentic, Intentional and Holistic
Ruthie Landis offers classes, workshops, and private coaching for actors engaged in theatre, on-camera, or voice-over.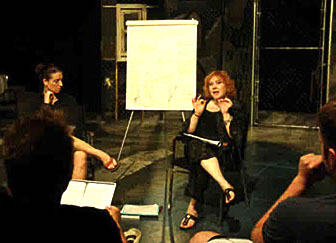 Ms. Landis also works with dancers, singers, musicians, public speakers, and other performers.
Audition with freedom, joy, and spontaneity
Relieve performance anxiety by using your body as an information base – the body never lies
Access your authentic and charismatic "presence"
Learn how to be fully in the moment
Use the Enneagram as an essential tool for self awareness, scene analysis, and character building
Be free and comfortable in your body, taking "your time" and "your space"
Move beyond technique to inspiration to truth
Begin with your imagination and engage your intuition
Build with your "blocks"
Move through your resistance to infinite possibilities
Sense greater intimacy and trust between yourself , the character, and the text
Learn to focus your energy and attention.
The Enneagram for Actors and Writers: The Perfect Tool
Performance Anxiety & Body Psychotherapy
Four tracks used equally in Building The "Actor-Self"
Experiential
Deepening the mind/body/spirit awareness connection
Working with intentionality on two planes- the life scene and the play scene
Preparing the receptive field from which creativity and spontaneity can easily flow.
Educational / Cognitive
Note recommended texts
Reading and journaling about the essence of what you've read
Exercising the observer-self with nonjudgmental noticing: notice, then imagine, then feel.
Technique
Body as pliable tool
Intuition building
Imagination- asking the questions that lead to more questions
Visualization-environment, character building, actor/character bridging
Distilling the "want", the hunger of the character
Playing the intention, not the obstacle
Video playback as learning tool.
Working with Text
Reading and analyzing material
Learning by heart
Embodying text, bringing to life that which is on the page
Choice making.
Monologues
Every monologue is a dialogue. Monologue preparation and auditioning can be a gratifying, enriching, and pleasurable discipline, one that the actor looks forward to doing. We focus on all aspects of the monologue process: selection, editing, preparation, performance, and on-going growth and learning following auditions. Actors need monologues like a carpenter needs his tools. It is optimum to have many in varying styles and genres. Each monologue is treated like a scene and emphasizes spontaneity and interaction with self, environment, and the other characters in the scene. We utilize mind/body/energy/heart work to supports the whole actor, inviting greater awareness, creativity, and safety for the actor.
General Scene Work
We invite the actor to explore the process of scene work on many levels: character development, being fully present in the moment, receiving before responding, text analysis, organic blocking, and response from an authentic impulse. The Enneagram is an essential support tool for all of the above.
About Ruthie Landis
Ruthie Landis has been a prominent acting coach and participant in the U.S. acting community for more than twenty years, teaching, directing, writing, and acting. She has worked at such theatres in Chicago as Steppenwolf, Goodman, Court, Victory Gardens, Apollo, Next, City Lit, and Novel Ventures. Ms. Landis has worked extensively on-camera in film and television, and in voice-over. She has taught in the university setting (Northwestern, Roosevelt, Columbia College ), at professional actor's training centers, and has conducted workshops nationally. Her innovative approach to Acting and the Creative Process draws from her work as a certified mind/body therapist, (utilizing gestalt techniques, rooted in Feldenkrais awareness work, and Alexander Technique). Ms. Landis is a certified hypnotherapist, and Reiki Master. Her teaching encourage growth through awareness and support rather than judgment. She is a teacher of the Enneagram and is a presenter at the International Enneagram Conference- 2006.
Recommended Reading
The Power of Now by Ekhart Tolle
Point Zero Creativity Without Limits by Michelle Cassou
Kitchen Table Wisdom by Rachel Naomi Remen
The Artist's Way by Julia Cameron
The Potent Self by Moshe Feldenkrais
Gestalt Therapy Verbatim by Frederick S. Perls
Building a Character by Stanislavski
Respect for Acting by Ute Hagen
To the Actor by Michael Checkov
Audition by Michael Shurtleff
Secrets for the Film Actor by Patrick Tucker
The Literary Enneagram Characters from the Inside Out by Judith Searle Enneagram Movie and Video Guide Thomas Condon
The Wisdom of the Enneagram by Russ Hudson and Don Riso
Books by Meisner on the Meisner Technique
Books by Stella Adler
Acting in Film by Michael Caine