In holistic work every part of the Self is seamlessly interwoven. When we tell "stories" about our past or our present challenges and successes we are bound by belief systems and perceptions that can limit us, keep us stuck, or cause us pain. We free ourselves from those limitations or unhealed places by re-perceiving, re-framing, or re-scripting these "stories". This is ultimate transformation. And the story is told as much by our bodies as by our minds. In fact "mind" lives in every cell of our being and all our memories are embedded there. Observing what is arising in the body at any moment reveals both our conscious stories and our unconscious motivations and perceptions. Unconscious belief systems need to be brought into the light so they no longer sabotage or thwart us.
We do not judge these patterns of thinking, feeling, or behaving because they were our means of survival, programmed and reinforced. But what if some of these patterns no longer serve us?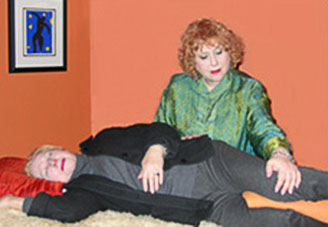 By deep listening to the body and learning its language we are given profound data and reveal blind spots. We bring the unconscious into our awareness by giving the many parts of our body a voice. We may do this on a massage table and amethyst biomat, or through getting still and observing our body language as we speak, or through gestalt chair work, or movement or creative process work.
These modalities connect us to our essence, the source, and authentic self. When freed from control or judgment, our creativity flows and we feel playful, engaged, energized, and expressive. Using various creative process techniques we reclaim the spontaneous, intuitive child, and can express ourselves freely in whatever medium we choose: our careers, our relationships, or acting, writing, singing, dancing, gardening, and the visual arts.
We invite all the parts of ourselves into awareness- the inner critic, perfectionist, victim, perpetrator, warrior, inner child, and others to find new resources, revise distorted beliefs, and create new productive, joyful and supportive physical and emotional patterns.
Couples and Family Coaching
This is an ever-growing part of my practice and one that I deeply enjoy. My work with couples and families is highly effective and efficient and is based on building practical skills, so that what we work on together in session can be easily used at home. My approach is very dynamic, creative, and experiential. It is not just talking about the same conflicting narratives regarding conflict and being misunderstood that repeat over and over again. It is about learning to listen and be receptive and not just trying to be "right." It is about using the Enneagram as a way to identify differences and bridges. We work together to create new scripts and take personal responsibility rather than blaming. We learn to build true empathy and not make others be the enemy. We use music, and props, and flip charts, and other innovative activities. Each session is like a custom designed workshop. We reclaim love and kindness. We find forgiveness. There is a mutual agreement to hold a vision for the highest good for the relationship as well as the individuals.